Approximately 100 businesses serve Kremmling and the surrounding region. Agriculture, mining, timber, education, health care, and recreation programs are all major employers. Other businesses include distribution centers, automotive repair, construction, restaurants, lodging, real estate offices, governmental agencies, business management and retail services.
Insurance, banking, technical and professional services are also available.
Kremmling's proximity to several major ski resorts enhances employment opportunities for area residents. Some resorts offer free transportation to and from work to seasonal employees living in Kremmling.
Census
The 1994 census showed a total population in Kremmling of 1,280, a growth of almost 60% in the last two decades. Residents of Kremmling are 52% male and 48% female, with the largest portion of the population under age 45. There are 582 households with 2.2 persons per household. 57% of Kremmling's population has lived in Grand County over 10 years.
Residents of Kremmling and the surrounding area are active in local government, and over 900 are registered voters. Kremmling's projected growth rate is 1.5 percent per year.
Telephone Numbers
Kremmling Chamber of Commerce 724-3472
Kremmling Town Hall 724-3249
Kremmling Police Department 724-3387
West Grand School District 724-3217
Elementary 724-3656
Middle School 724-3489
High School 724-3425
Kremmling Memorial Hospital District 724-3442
Kremmling Post Office 724-3771
Public Service Company of Colorado 887-3387
Mountain Parks Electric 724-9377
Mountain Parks Bank 724-3482
U.S. West Telephone 800-422-1234
Ohri Realty 724-3338
Jim Ward Realty 724-3845
Brown & Company Realty 724-9737
Landfill 724-3639
Labor Force
Kremmling offers a diversified and well-educated work force with over 20% holding four year degrees, and 82.3% age 25 or older holding a high school diploma. Wage rates are moderate, while the work force is stable and non-unionized. The labor force consists of private wage and salary earners, self-employed workers and government employees. They are particularly skilled in the agricultural, forest products, mining, services, education and retail industries. Median family income is moderate, while the availability of skilled and unskilled labor is good. The Kremmling community is proud of its "Old West" work ethic and can provide a ready pool of available, skilled and stable employees for businesses considering relocating.
Sales Tax
The Kremmling sales tax of 8 %, consists of 3 % state tax, 1 % county tax and 4 % city tax. A 1 % tax is also collected for rooms rented at lodging facilities to support activities of the Grand County Tourism Board.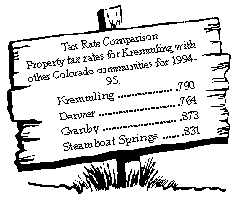 Property Taxes
Mill levies in 1992 for the Town of Kremmling were:
Town of Kremmling .010000
County .013155
School District .036996
Hospital .011208
Sanitation .002095
Fire District .005023
TOTAL .079015
Public Facilities
Kremmling's water system is up-to-date and well maintained. The treatment plant was built in 1978 and is designed to accommodate expansion. The fluoridated water system serves all taps within the corporate limits of the Town of Kremmling and mobile home parks outside the corporate limits. Kremmling's tap fees are among the lowest in the area.
Water
Dillon $3,000
Frisco 3,200
Granby 3,000
Kremmling 1,200
Sanitation
Kremmling's sanitation facility has room for expansion and can serve a peak population of 5,000.
Dillon $3,000
Frisco 4,000
Granby 3,000
Kremmling 1,000
Solid Waste
The Town of Kremmling provides trash collection to residents and businesses. Residents have once-a-week pick-up, and commercial users have pick-up three times a week.
Electric and Gas
Mountain Parks Electric, an REA distributor, serves the Kremmling region. The provider can increase supply of electricity for any reasonably-sized developer. Natural gas is supplied to Kremmling through Public Service Company of Colorado by Western Slope Gas Company.