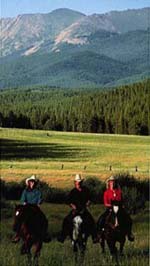 This is the west...
The west of cowboys, rodeos, and cookouts, bright stars and unpolluted skies, mountains, rivers, sprawling ranch land and untamed wildlife.
THE REAL WEST,
WHERE YOUR ADVENTURE AWAITS...
The town of Granby, located in Grand County and only 85 miles from Denver, is the hub of Colorado's spectacular MIDDLE PARK where the mountains dominate and control the landscape absolute. The Real West!