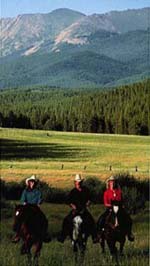 About the town of Granby
Located in The Heart of Middle Park, you'll find plenty of lodging and restaurants right in and near town. Plus bars, stores, shops, service stations and much more.

---
Granby, 95 miles from Denver and located near the junction of Hwy. 34 and 40, is convenient to everything in Grand County. (See map).
Silver Creek Ski Area: 4 miles
Lake Granby: 6 miles
Hot Sulphur Springs: 10 miles
Shadow Mountain Resevoir and Grand Lake: 10-16 miles
Rocky Mountain National Park Entrance: 17 miles
Winter Park and Mary Jane Ski Areas: 22 miles
Granby was founded in 1905 with the arrival of the original Moffat Railroad. The town was named after Granby Hiller, the U.S. District Attorney For Colorado. Within a year, the town had grown to consist of 30 dwellings, 2 livery barns, 2 hotels, 2 restaurants, a church, a schoolhouse, and 4 saloons.
Elevation: 7,935 feet above sea level.
Snowfall: Approximately 100 inches annually
Average Temperatures: January: 29F., July: 82F.
Winter
Spring
Summer
Fall
Home
---
Greater Granby Area Chamber of Commerce
Return to Grand County Visitor's Center
Return to RkyMtnHi.com
© 1996, 1997 Grand County Internet Services
Site design by skyisland design