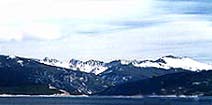 Wintertime in Grand County
Even in winter you can't help but smile when that bright blue Grand County sky spotlights another round of sparkling, champagne powder. The downhill skiing is some of the best in the country for any ability at the Winter Park/Mary Jane Resort at the bottom of Berthoud Pass. At Silver Creek Resort, near Granby, everything is cozy, compact and easy. All the lifts radiate from the same base area, making it a favorite for families and first-time skiers and snowboarders.
When snow covers the mountain biking trails, it is time to trek. Cross-country ski at Snow Mountain Ranch/YMCA of the Rockies, Silver Creek, Grand Lake, Devil's Thumb and the C Lazy U and Latigo Dude Ranches with 150 miles of groomed trails between them.
For absolutely stunning wilderness scenery, snowshoe out into the Arapaho National Forest or Rocky Mountain National Park where unlimited, ungroomed cross-country and snowshoe trails are all yours.
A coat of snow also transforms the rolling ranch lands around Kremmling into a snowmobiler's haven. Head back into the hills by yourself or take a guide. Everywhere you go in Grand County, you're sure to uncover snowmobile tracks with excellent sales, repair and rental shops close by. The Grand Lake area has 300 miles of trails, 150 of which are groomed. Grand Lake also has an ice skating rink next to the marina.
In Fraser, you've got a terrific choice: tubing or sleigh rides . . . or both! At the tubing hill in Fraser, we'll supply the inner tubes, rope tow and warming house. You just bring the smiles. Cozy up on an historic horse-drawn sleigh ride at the Cozens Homestead complete with harmonica music and hot refreshments around a blazing fire. No need to hurry. Both the sledding and sleigh rides last well into the evening.
Remember those 110 degree hot pools in Hot Sulphur Springs? They feel great in winter, too. Stop in the Grand County Museum while you're there. This 1920's school house offers plenty of lore on the early mining, railroading and skiing days in Grand County, a perfect diversion on a snowy day.
Hungry yet? Grand County is right where you want to be. We've been grazin' now for over a century and our experience shows. You'll find some familiar restaurant names along the road, and you'll also find some one-of-a-kind-I-gotta-come-back-for-more cafes. The food can be as gourmet or casual as you like it. The best source for finding a good restaurant is to ask the locals. We're friendly and honest, like Matt Dillon and Chester. . . likable sorts who will always do you right.
Back To Grand County Visitor's Center