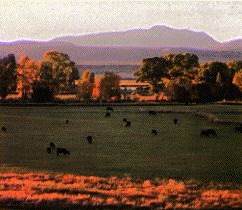 Summertime in Grand County
---
Grand County is lush and green -- no surprise when you consider that we have more water than any other region in Colorado. That's no fish story but this is: lurking below the water's surface are Mackinaw and Kokanee salmon as well as rainbow, German brown and cutthroat trout. Lake Granby offers over 150 miles of scenic shoreline. Grand Lake is the largest natural lake in the state, and Shadow Mountain Reservoir connects the two. You're in for one heck of a boat ride, whether it's water skiing, fishing, sailing or canoeing. Head up the mountains outside of Grand Lake and you'll hit the headwaters of the Colorado River. For rafters, the early summer runoff is a rush!
The mountain biking craze has brought new pioneers to Grand County who have mapped out a nationally-acclaimed trail system over 600 miles long! You can ride through Silver Creek, Snow Mountain Ranch/YMCA of the Rockies and Winter Park all in one loop or ride the 200 mile trail system connecting Winter Park to Steamboat Springs. Make it easy and take your bike up the chairlift to 40 miles of trails on the ski mountain in Winter Park.
Whoaaa now. There's more than one way to go ridin' in Grand County, and any one of our outfitters can have you sittin' high in the saddle. Choose a one-day ride into the wilderness or a week's stay on a dude ranch. You'll find it all -- fishing, hiking, rafting, boating, jeeping, swimming and even square dancing.
Don't be surprised to see the ranch hands riding a buckin' bronc or two at the rodeos that run throughout the summer in Fraser and Granby. The County Fair in Kremmling has its own brand of fun with plenty of rodeo action to boot.
Can it get any wilder than this? Absolutely. Just head into any of the four designated wilderness areas in Grand County. It's so quiet here. No motorized vehicles or bikes are allowed, but cameras are! You'll capture the spectacular views of the Continental Divide, Berthoud Pass, Byers Peak, Indian Peaks and Rocky Mountain National Park.
Rocky Mountain National Park is a must for anyone exploring Colorado. Visit this sanctuary and with some luck you'll see elk, deer, bear, bighorn sheep, mountain lions, hawks and bald eagles. We can't promise you're going to see a mountain lion (did you really want to?) but we can guarantee you'll find 78 peaks rising well over 12,000 feet above sea level. Grand Lake borders the park's western entrance, which takes you up Trail Ridge Road, a winding, 50-mile highway through alpine tundra and glacial lakes. No wonder Rocky Mountain National Park, in Grand County, is Colorado's most visited and best-loved attraction.
Back To Grand County Visitor's Center