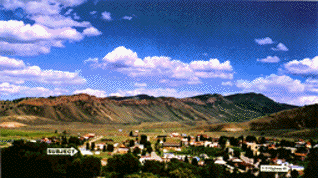 Hot Sulphur Springs
Hot Sulphur Springs is the oldest Town in Grand County, and one of Colorado's oldest resort areas. The town was founded in 1874 and sits at the top of Byers Canyon, where the cliff walls suddenly close in around the Colorado River. It's a tiny town, with just over 600 residents. While some might consider Hot Sulphur Springs no more than a reduced speed obstacle between Granby and Steamboat Springs, it is an area rich in history and activities.
Hot Sulphur Springs is the home of the Hot Sulphur Springs Resort & Spa at 7600 feet elevation, where the Ute Indians (and their horses and dogs) once bathed, healed mind, body, and spirit and relaxed in sacred waters. The Springs has been in operation continually for the past 140 years. In 1996, major renovation took place, and it is again one of Colorado's finest destination resorts.
Inside the old school house, built in 1924, you will find the Grand County Museum and stories of how the area developed. (Did you know that the first competitive ski race was held here in 1911?)
This cozy little town has restaurants & lodging (including an historic hotel and an historic bed & breakfast), and is centrally located in Grand County, close to a multitude of recreational activities.
Keep checking back, more information will be added as RkyMtnHi.com grows!
Return to Grand County Visitors Center
Hot Sulphur Springs Community Information
Hot Sulphur Springs - Photo Tour
Return to RkyMtnHi.com
© 1998 Grand County Internet Services